Navigating Water Damage – Call Pros to Your New Haven Property
4/3/2023 (Permalink)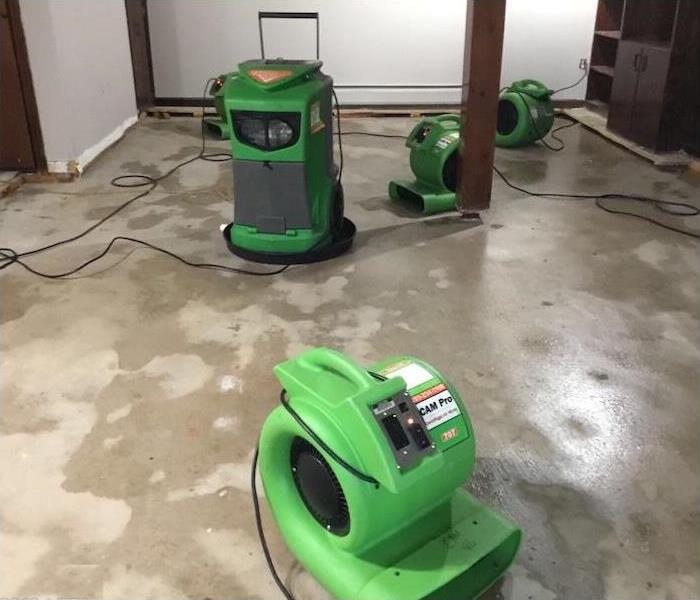 Our IICRC certified technicians are ready 24/7 with state-of-the-art equipment to restore your water damaged home in New Haven.
SERVPRO's Water Damage Team is Available 24/7 in New Haven!
Water infiltration can be a tricky situation for any business or homeowner. Something that further complicates water emergencies is that they can happen in many ways, and no two properties are alike. When it comes to sewage backup, burst pipes, or a leaking roof from storms, you need someone onsite and ready to get to work fast. The longer you wait to begin water extraction and drying, the more you open yourself up to a world of costly secondary damage. SERVPRO is available around the clock, even on weekends and holidays, to help with water removal services, drying, and complete restoration!
Whether Mother Nature is the cause of your water damage in New Haven or you have interior flooding from an appliance or plumbing, SERVPRO can be there within hours to begin water cleanup and drying. Our water mitigation efforts are second to none, ensuring you limit the destruction to your property to get back to everyday routines.
Dealing With Burst Pipes in Your Basement
Broken piping can happen at any time anywhere in your home or business. Much of your plumbing is hidden from plain sight, so you might overlook an issue until the damage presents itself. Should you notice staining, musty odors, or damp building materials, these are all indicators that you have a water damage issue developing. Some of the other telltale signs there is a piping leak that must get addressed include:
Standing water below sinks in your kitchen, bathroom, laundry room, etc.
An unexplained spike in your water bill
Strange noises coming from the pipes like bubbling or whistling
Water that is discolored or has a funny smell
Changes in your water pressure
SERVPRO features IICRC-certified water restoration technicians (WRT) who can investigate to find the source of your water problem. We ensure the issue gets fixed as we begin water remediation to ensure no further damage occurs. Wherever there are unsalvageable building materials, we use controlled demolition to remove them, carefully dispose of them, and then replace them with brand new materials.
Drying and Dehumidification are Critical in Any Water Restoration Project
Our goal here at SERVPRO is to make it "Like it never even happened." When called to water-related emergencies, a big piece of the puzzle to reaching our goals includes our drying and dehumidification efforts. We follow our tested and proven methods to help us bring your interior back to preloss condition with the help of industrial-grade equipment and knowledge of drying theory. We also have access to thousands of pieces of equipment which allows us to scale each project as needed!
Powerful extractors, both portable and truck-mounted, allow our crew to remove standing water and pull moisture from carpeting, flooring, etc.
Air movers, industrial fans, drying mats, and other equipment allow us to enhance evaporation to reduce overall drying time.
Dehumidification equipment help to cut back on relative humidity (RH) to help boost evaporation rates throughout the work zone.
There are two common types of dehumidifiers you may see our crew using for emergency water restoration projects. One option is the desiccant dehumidifier that works using desiccants, which are chemicals that aid in pulling out and absorbing moisture from the air.
Regardless of the cause of water damage within your property, you need skilled technicians to restore everything to pre-water event condition. Look to SERVPRO of New Haven for water repair and restoration – contact our team 24/7 by dialing (203) 234-1100. We're Faster to Any Size Disaster!