Education and Hurricane Preparedness for Property Owners
11/1/2022 (Permalink)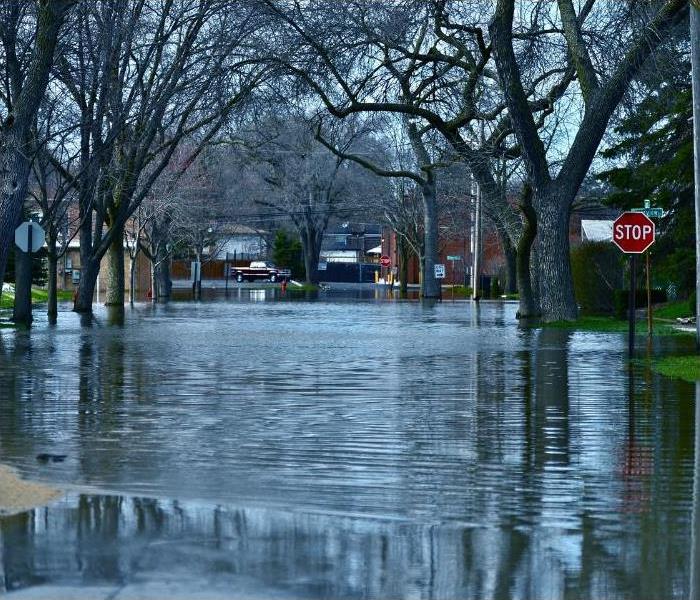 When flood damage from a hurricane impacts your property, call SERVPRO. We have what is needed to have your property back to preloss condition.
Disasters and severe weather happen at any time, often without much notice or warning. Natural disasters like hurricanes bring intense flooding and damaging winds, making your property vulnerable. Learning about hurricane preparedness and safeguarding your home and family from possible storms is the best way to stay ahead of the game.
Do you Have an Annual Hurricane Checklist?
There are several steps that all homeowners can take that will help prepare for storms and hurricane flooding. No matter where you live, be it high or low-risk, putting preventative measures in place will give added peace of mind and possibly save thousands in storm or water damage repair costs.
Helpful Tip: Not sure where your property lies regarding hurricane flood risk? FEMA provides a flood map tool that outlines flood risk for your region.
How Can I Ready my Home and Family for Hurricanes?
Getting a head start and preparing for storms, flooding, and possible damage will give you the solid foundation you need to weather the storm and quickly get back on your feet. Some helpful tips to keep in mind:
Formulate an emergency plan and begin practicing it. Putting together a plan for your family helps ensure you all know what to do in the event of hurricanes and flooding. Know an evacuation route and go over what to do should anyone become separated.
Build your emergency kit. Inside a preparedness kit, you will want water, food, medicine, and other supplies for a few days. Other popular items for such emergency kit planning include first aid items, flashlights, a handheld radio, and batteries.
Put together several ways to receive storm and evacuation alerts. Take time to download apps on your smartphone to receive alerts. You can also have a battery-operated portable radio to get important information if the power goes out.
Consider Investing in Flood Insurance
When you reside in a flood-prone area, you must remember that not all renter's or homeowner's policies will cover damages from floods. Water damage and contamination from floodwaters are expensive to rectify. Unfortunately, federal disaster aid rarely covers all homeowners' damages.
Helpful Tip: If you do not know where to begin when looking for the property amount of flood damage coverage, FEMA has a flood damage tool to determine what flood damage could cost to restore your property. FloodSmart also has a website listing participating insurance providers.
Ready your Home to Resist Flooding
While some flood situations with hurricanes are unavoidable, you can work to prepare your property to minimize damage. Steps like cleaning your gutters and drains help ensure the water has a way to flow away from your property.
Outside your home:
Elevate any utilities and service equipment to prevent flood damage and electrocution. You can do this by elevating switches, sockets, and electrical outlets to a foot above flood elevation estimation for your zone.
Install a rain barrel to collect water coming from your roof.
Anchor any outdoor fuel tanks so they do not float and lead to injury or damage.
Inside your home:
Look into the installation of a sump pump or foundation vents.
Apply coatings or sealants to your home's basement walls and foundation.
Install drain plugs in the basement or look into sewer backwater valves for piping coming into your home.
Cleanup and Restoration After Hurricane Flooding
Even in a low-risk area, hurricanes involving floodwater can generate extensive property damage. Flood-proofing your foundation can save an immense amount of money, but you may encounter flood waters, a leaking roof from storms, broken windows, and other damage. For all your water removal services and cleanup needs, SERVPRO is here to help.
For constructions and extreme demolition projects, we look to our trusted partners at Connecticut Reconstruction Services (CRS) to handle everything from drywall replacement and new flooring to other fine details. We make your home "Like it never even happened."
SERVPRO of New Haven wants area residents to stay safe and prepared in the event of a hurricane. Should you require floodwater removal and drying, call us 24/7 at (203) 234-1100.