My Hamden Business Has Mold – Who Do I Call?
8/24/2022 (Permalink)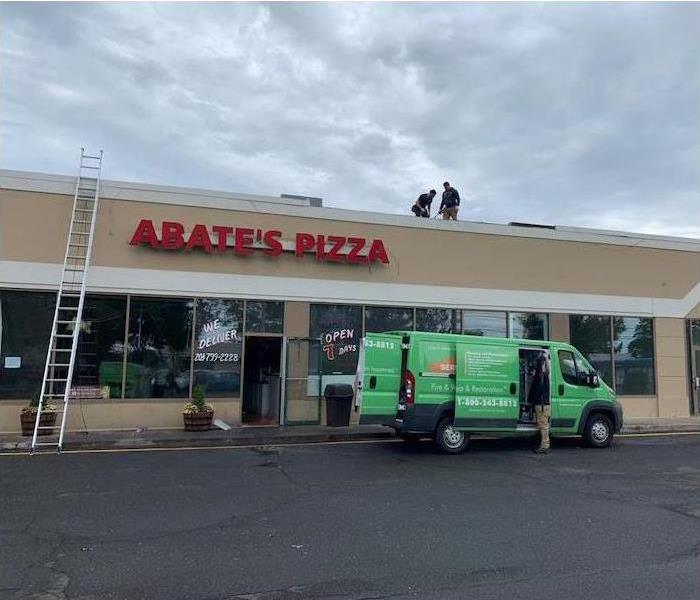 Commercial mold remediation is no easy task. SERVPRO has trained techs with the know-how and experience for any size mold remediation job.
SERVPRO provides mold remediation and mold removal to keep Hamden businesses open
Finding mold in a business is never a good thing. Mold spores travel through the air and are carried around on everything from clothes to the wind. They are everywhere, and you cannot get rid of them. Mold can develop anywhere there is moisture and a food source.
How Does Containment Work with Black Mold Damage Repairs?
Mold is made up of tube-like filaments known as hyphae. As the colony grows, the mold spreads. This allows for the development of more mold spores, which then look for moisture and food. If you see mold, it is time for mold removal in Hamden. One of the tools we use when dealing with mold removal is containment. Containment makes it difficult for mold spores to get away from the impacted area. Containment helps with other things involving mold removal and the impacted material, such as:
Silica dust
Particles left from sodablasting
Dust from mold removal techniques
Easier cleanup
Preventing further damage
Safer mold remediation
SERVPRO uses containment methods such as polyethylene sheeting, tape for sealing, decontamination areas if needed, and HEPA filters in our vacuums and air scrubbers.
Contact SERVPRO of New Haven at (203) 234-1100 for commercial mold removal in New Haven. We are mold specialists who understand just what your business needs.