Our Certified Experts Are Committed To Restoring Your New Haven Home After A Flood
7/27/2022 (Permalink)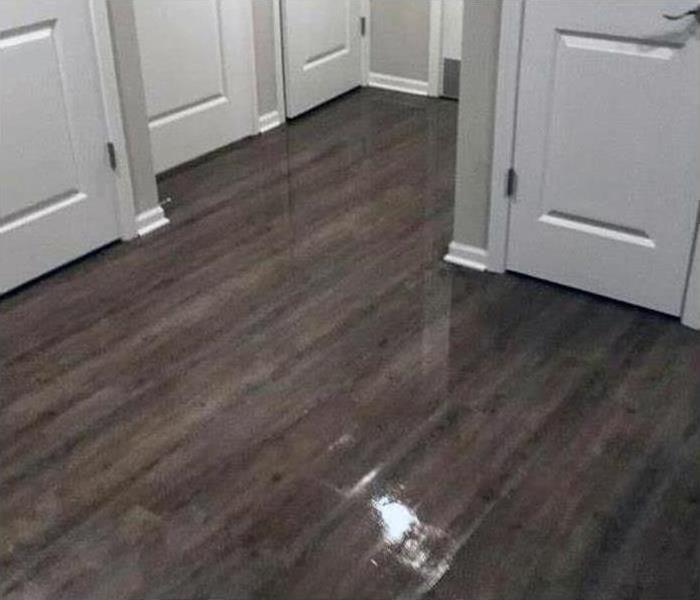 Our experts have the training, equipment, and experience to restore your home to pre-damage condition after a flood hits your home.
Repairing Hardwoods After New Haven Flooding
After flooding occurs in a New Haven home, you are quick to work towards assessing the damage and the steps you can take to return your property to pre-damaged condition. Flooding, even without contamination, can pool along the floors of the levels affected, allowing it to saturate into materials like carpet fibers or porous wood. Hardwoods are more water-resistant and can exist in flooring, cabinets, and other furniture.
Despite the lower porosity of hardwood furniture and construction materials, contamination or delays in drying flood damages require us to replace hardwoods in New Haven homes. Our SERVPRO professionals can assess the widespread effects of migrating flooding with moisture meters and probing detection devices. Surface meters can show when trapped water exists in wood materials, often without a need for probing. When visible swelling and warping begin, there is no reversing this condition, and controlled demolition must occur.
Flooring
Wood flooring can be one of the first areas of your home affected by natural flooding. While surface water can remain above the wood planks for a short period, absorption inevitably begins. Once contaminated water begins to bond with the cells in the wood, the flooring is not preserved. Our partners at Connecticut Reconstruction Services can replace wood flooring and subflooring materials once our SERVPRO technicians have removed damaged areas and decontaminated the remaining structural supports and joists.
Cabinets
Base cabinets can come into direct contact with pooling floodwater. Still, hung cabinets can also get damaged when water enters through the roof after storm effects. While particleboards can show damage and deterioration quickly after a flood, hardwood cabinets can resist penetration for longer spans. Once saturation occurs, it is crucial to remove these flood-damaged elements to prevent mold development promptly. We can remove these units entirely to better dry structural cavities and drywall behind to prepare the kitchen or bathroom for new materials to get installed.
Hardwood can resist absorption of penetrating floodwater, but once it has saturated beyond the surface, our SERVPRO of New Haven professionals must work on controlled demolition solutions to make it "Like it never even happened." Give us a call today at (203) 234-1100.