Can SERVPRO Restore My Antique Sofa After Flood Damage?
4/7/2022 (Permalink)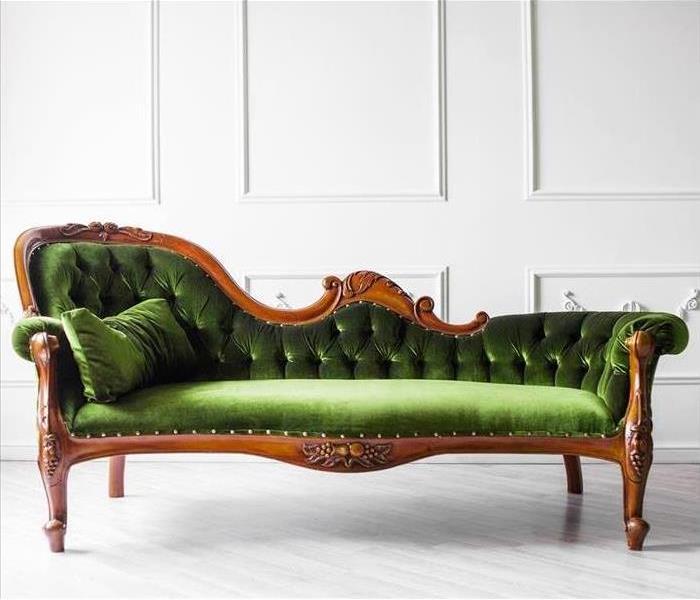 Storm-Damaged Antique Heirlooms or Furnishings? We Respond Swiftly to Salvage Contents for Our New Haven Customers.
New Haven Residents Are Concerned About Flood Damage to Irreplaceable Antiques
Anyone who has enjoyed antique shopping in New Haven knows how much fun it is to find an excellent piece of furniture full of character. Sometimes you come into possession of an antique from a friend or relative. Antiques lend something unique to the atmosphere of a home and are often beloved by the homeowner.
In the event of flood damage in your New Haven home, it is natural to worry about your beloved antique sofa. After all, you cannot just go to the nearest furniture store and buy another. Do not despair – SERVPRO technicians can use various techniques to save your favorite seat from floodwaters.
How does Floodwater Affect Antique Furniture?
Floodwater can cause several problems:
Wood frames can swell and even crack as they absorb water – sofas may be especially vulnerable to this because of the way their frames join together.
Delicate upholstery can bleed color or become blotchy.
Mold can grow on wooden surfaces or inside cushions and seats.
It is essential to deal with flood damage immediately. If you leave it, there is more opportunity for mold to grow in, and on your sofa, water stains can settle in more deeply, and cracking and swelling can worsen.
How Does SERVPRO Save the Sofa Frame?
Our technicians know that antique wood can warp under the strain of floodwater – and they also understand that rapid drying is dangerous. If we dry your couch too quickly, it could be at greater risk of damage.
We dry your sofa frame in three stages:
First, we mop up surface water from the legs and seat, being careful not to cause color bleeding
Second, we position air movers, fans, and dehumidifiers in the room and around the sofa to dry it
Third, we use moisture meters and thermo-hygrometers to monitor moisture and humidity as we proceed
We train our technicians to the Institute of Inspection, Cleaning, and Restoration Certification standards, which means they know how to carry out drying at the correct speed to get results without damaging the wood. We can also carry out light refinishing of the wood if necessary.
What About the Upholstery and Cushions?
SERVPRO understands how disheartening it is to see your favorite seat damp and bedraggled looking. Thankfully, we have ways to tackle water-logged furniture.
We have a range of cleaning materials we can use to cleanse cushions and upholstery and leave them free of mottling. Depending on the material, we might employ:
Wet fogging
Water extraction
Spot cleaning
Our technicians know just how to tent cushions for maximum drying efficiency. Once the cushions are tented, we can place air movers and fans around them to blow air across the material, triggering evaporation and drying. We can also place dehumidifiers to reduce moisture in the surrounding air.
Should I Worry About Mildew?
No – we understand the risks of mildew growth and take steps to mitigate those risks. We do not close out the project until we are satisfied that your sofa is thoroughly dry. We can also apply microbial agents to the frame and cushions to further discourage mold or mildew.
Will my Sofa Smell Damp Afterward?
We know that damp odors are a severe concern for our customers – they have told us that one of the most challenging things about water damage is the lingering smell. That is why deodorization is the final stage of any flood damage operation.
When it comes to odors, a good rule of thumb is to use dry or wet treatments, depending on the smell source. So if the source is fire, we would use hot, dry thermal fogging. For water, we use wet fogging. The wet fogger machine sprays a fine mist of deodorizing and cleaning compounds that can penetrate even hidden nooks and crannies.
Because the fogger wets the material evenly, it can also help fight water stains – it is easier to get good results when drying an entire cushion rather than the affected part only. We can also use air scrubbers, carbon filters, and odor-eating pellets to enhance deodorization.
If you are concerned about your antique furniture after a flood, call SERVPRO of New Haven at (203) 234-1100.