How Does SERVPRO Deal with Flood Contaminants in New Haven Homes?
2/21/2022 (Permalink)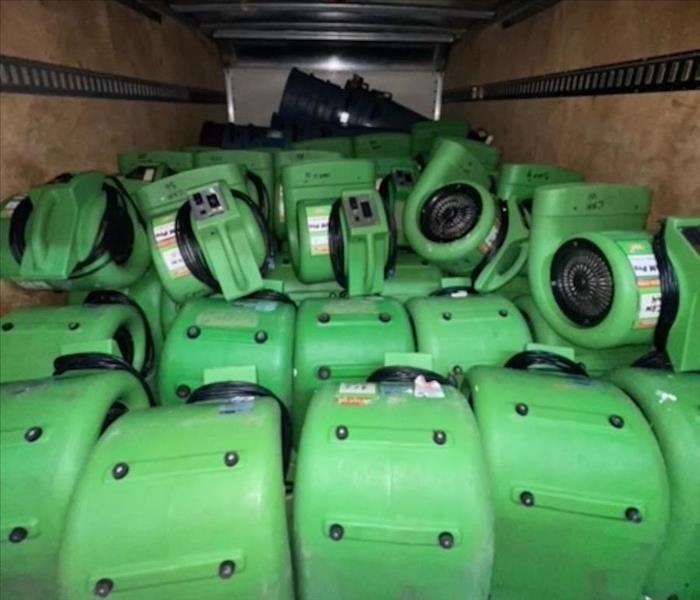 When a flood impacts your property call SERVPRO flood damage restoration team. We have what is needed to have your property back to preloss condition
Several sources of contamination could impact New Haven homes after flood damage.

After flooding impacts your home or business, there is a finite timeline to restore and recover the damage caused. Emergency services focus on specific actions necessary to protect the property and its occupants, such as:
Extraction
Debris Cleanup
Muck-Out
Content Relocation
Organic Matter Brought in With Water
One of the ways flood damage in New Haven can threaten exposed building materials and contents is through the decaying organic matter carried in with flooding. Debris, organisms, and mud can all introduce pathogenic threats to your property, as well as harsh odors and other cleaning needs.
Sewage Backup Concerns
In some events, utilities like sanitary sewers and culvert systems become overrun, with entire neighborhoods becoming flooded. Any blockages in these systems can cause a backflow event into connected homes through floor drains or lower toilet hookups in the property.
Cleaning Surfaces and Contents

Disinfection and surface cleaning are also vital processes to the flood recovery effort. Exposure to migrating bacterial and viral pathogens creates a pressing and urgent need for surface cleaning with sanitizing and disinfection products in our inventory.
Repairs When Needed
Because of our general contractor license, we can handle the many repairs, and reconstruction needs your home might have after flooding. Exposure to contaminants, for example, will require controlled demolition and replacement of porous materials impacted directly by these black water events. With flooding being among the highest categories of loss, few examples of flood damage do not require some degree of repair.
With many ways that your house can become flooded, having experienced professionals capable of providing varying restoration and recovery is valuable to a property and its contents. Our technicians are ready to help overcome each post-flood repair and cleanup phase. Give our SERVPRO of New Haven team a call today at (203) 234-1100.