Removing Soot from the Kitchen Structure in Hamden Homes
1/16/2022 (Permalink)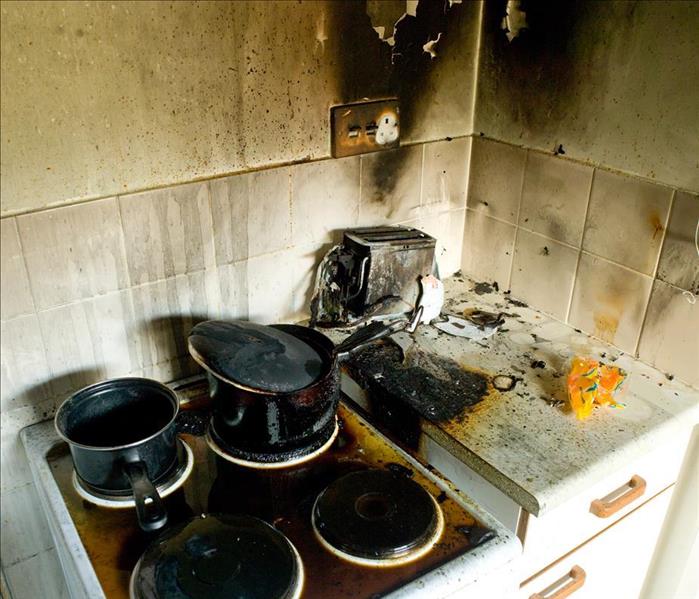 When a kitchen fire strikes home, SERVPRO techs will be on-site within 4 hours of the initial call. Fire damage restoration is a job for us.
Fast action by experienced professionals can manage post-fire soot effects in Hamden properties.
Fires can be exceptionally damaging and ruinous for homes and businesses, and the kitchen of residences is a common ignition point for fire and smoke damages. As rapidly as these disasters can develop with flare-ups, surfaces and structural elements can become coated with soil deposits generated during combustion. Our fast response can help provide immediate mitigation where needed.
The Type of Soot Damage

Learning the type of soot causing the smoke and fire damage to Hamden homes is vital when our team begins restoration and recovery. Grease fires can create harsh, thick residues that adhere to vertical and horizontal surfaces, requiring a combination of mechanical action and powerful cleaning products to help.
Counters and Wall Surfaces

Protein and grease residues spread fast through a damaged kitchen and can directly affect wall systems nearby. Countertops also provide a stable horizontal surface that allows for a buildup of soot and smoke particles. With underlying countertop substrates, wet cleaning products can often be used to dislodge particles and residues to dissolve and emulsify carcinogenic particles.
Cabinets and Wood Structure

The effect of fires on fixtures and staples of the kitchen like the cabinetry must be resolved fast. Beyond the need for refinishing or replacing heavily impacted units, surface cleaning should begin as soon as possible to prevent the permanent marring of porous wood and particleboard. For legitimate wood cabinets, restoration can involve:
Wood Crème Paste
Steel Wool and Stiff Brushing
Partial Replacement/Resurfacing
The kitchen area can become heavily damaged by fires that originate around appliances like the stove. The spread of harsh residues and challenging loss effects makes a fast response from experienced professionals vital in restoration and protecting exposed elements. Our SERVPRO of New Haven team is ready to help 24/7 at (203) 234-1100.