What Kinds of Fire Damage Have Been Most Common in New Haven?
12/16/2021 (Permalink)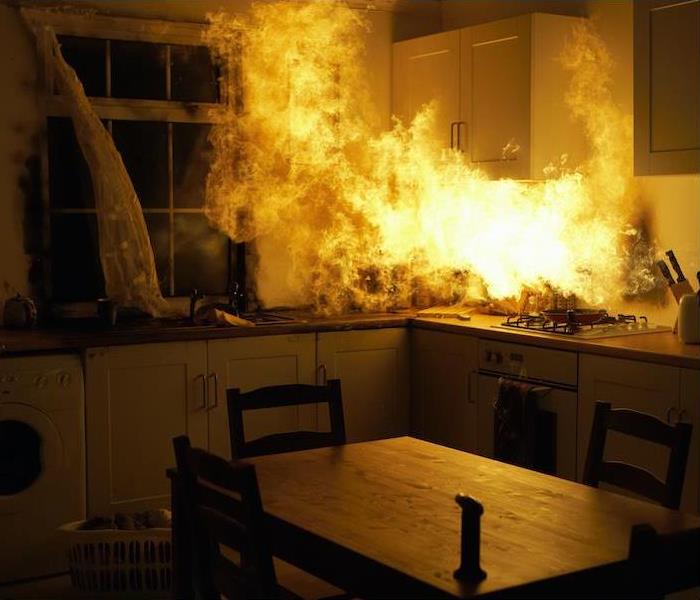 You can count on our professionals with state of the art equipment to quickly restore your property so you can return safely after a fire incident.
New Haven Residents Have Commonly Suffered All Types of Fire Damage.
House fires are easily among the biggest threats facing New Haven homeowners, surpassing even flooding risks and other common residential problems. When these fires strike, they fill interior air with harmful smoke particles and persistent, foul odors, cover surfaces in damaging acidic residues, and consume structural elements and household contents.
When SERVPRO remediates house fire damage in New Haven, our technicians often encounter all kinds of devastation. Many times, these serious physical injuries impact all parts of fire-damaged homes and range from aesthetic issues to those affecting their overall safety. As SERVPRO professionals have completed house fire clean up efforts, smoke remediation, and fire damage restoration work, they have seen the following fire-related effects:
Choking, smoke particle-filled air that makes home unlivable
Foul, difficult-to-neutralize odors that permeate all areas of a residence
Surfaces throughout a house that have been covered in acidic or greasy residues that corrode metal discolor wooden or painted materials and damage other kinds of surfaces in different ways.
HVAC systems filled with soot that need expert cleaning with specialized equipment
Charred or fully consumed structural elements, like wooden beams/studs, floors, walls, and ceilings that either need extensive cleaning or reconstruction
Extensive water damage related to fire extinguishing efforts
Fortunately, SERVPRO is well-equipped to handle every one of these issues. So, rest assured that, with our particular expertise and advanced equipment, we can often remediate even the worst fire damage.

With that said, keep SERVPRO of New Haven in mind if you ever need fire damage clean-up and restoration work done on your home. We are always ready for your call at (203) 234-1100.