Call Early for the Best Hamden Flood Damage Outcomes
6/4/2021 (Permalink)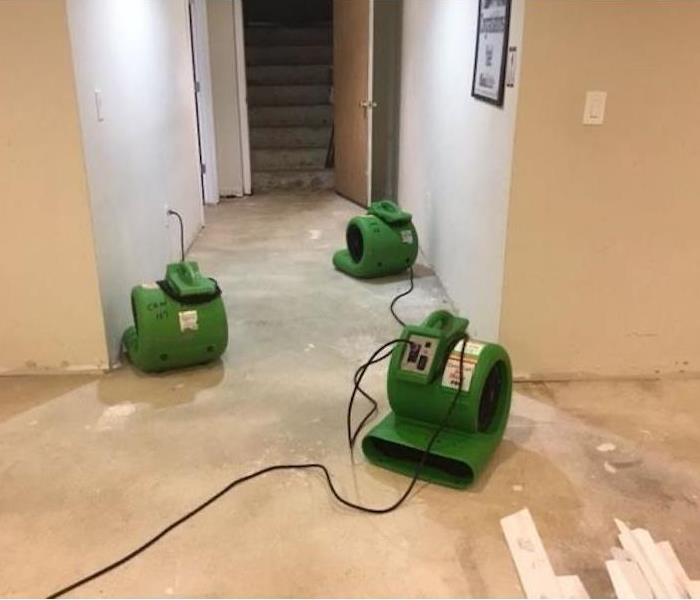 You can count on our professionals with state of the art equipment to thoroughly dry your property so you can return safely after a water incident.
Avoid Expensive Repairs Through Rapid Response to Flood Damage in Hamden
Your call to SERVPRO for help with flood damage should come as soon as possible after the disaster to have the best effects. Delaying your call could lead to costly side effects later on.
Our approach towards flood damage in Hamden revolves around the speed of our response. Damage restoration is only half of our job – mitigation, or the prevention of further problems, is the other half. By arriving soon after the incident or even while it is still in progress, we can potentially avoid many of the worst problems associated with:
Water Removal Services
Basement Flooding Cleanup
Mold Growth
Structural Damage
One of the most expensive ways to damage your house over time is through structural effects. We're Faster To Any Size Disaster because speed helps us remove water from the property before it has the chance to seep into the deepest reaches of the building. When water finds its way into the foundation and supporting elements of your home, it can begin to form cracks and fissures, especially when overnight temperatures cause it to freeze before thawing the next morning. A call to the 24/7 SERVPRO emergency phone line can avoid many of these consequences.
SERVPRO of New Haven can arrive within hours of your first phone call to stop the spread of damage on your property. Contact our emergency line at (203) 234-1100.