The Foodie Capital of America: New Haven
12/21/2020 (Permalink)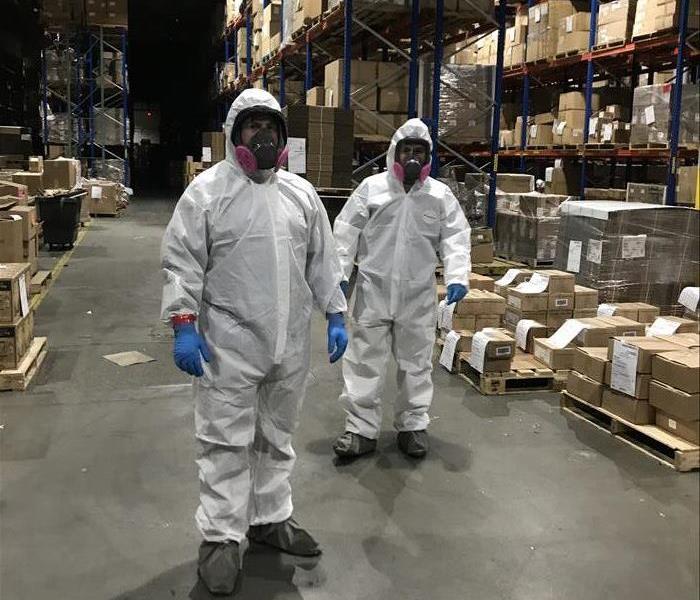 High quality fire restoration is no easy task. Call the professionals at SERVPRO for their newest equipment and experience to handle the job.
New Haven Apizza Is the Gem of American Pie
Across the many friendly competitors within New Haven, one thing may be clear about our pizzerias: they are both different from and better than anything else in the country. New Haven-style pizza is only less well-spread than other regional styles due to the difficulty of its preparation. If it were as easy and quick to make as other pizza styles, many food critics agree that it would have overtaken the country much sooner. However, the New Haven-style continues to expand, and we can see why.
New Haven-style pies began at Pepe's in 1925, one of the earliest pizzerias in the United States. Even before the restaurant, Pepe was known well in New Haven for his remarkable "tomato pies." After a few years of selling his pies out of a wagon and at local markets, he took over the business that would become his restaurant. Over the years that followed, the formula changed very little, except when the clam pie was added to the menu a couple of decades later. The unique style offered at this restaurant inspired many others, and today, Pepe's and others remain well-loved local eateries.
Slowly but surely, this pizza style began to expand beyond New Haven, especially in the past decade. After nearly a century of having just one famous location, Pepe's has started to move into nearby towns and states rapidly. Other restaurateurs, inspired wholly or partly by the distinctive New Haven-style, have opened up similar locations nationwide. These places have observed financial success greater than many other specialty pizzerias in their communities, so the rapid expansion is only accelerating.
This expansion has not gone unnoticed by food critics. PMQ, Eater, Slice, and other prominent food and pizza industry critics have taken a liking to the New Haven-style. These publications recognize one truth that is sure to disappoint most of their readers: to get the best New Haven pizza; you need to visit the source. Thankfully, those in the area need not travel far to find an authentic and delicious pie.
Do You Know Which New Haven Restaurant Invented the Hamburger?
Believe it or not, New Haven was the start of it all. If you asked anyone in the world what the most important food is in American cuisine, they would probably tell you that it is doubtlessly the hamburger. Burgers, prepared with any number of toppings, specialty buns, and condiments, are ubiquitous across America. Surprisingly, they got their start at just one restaurant, a little place that remains open today in New Haven.
Louis' Lunch resides in a small, unassuming building with distinctive red paint and an old-timey feel. Inside, the fourth-generation Lassen family owners operate the broilers in the same way that their great-great-grandparents did 120 years ago. Louis' Lunch is a bit different from most other restaurants because here, the customer is not always right. The Lassens will proudly tell you that if you do not like what they are serving, you can walk straight through the door you came in. While this might seem surprising to many new customers, the establishment has good reason to hold it's head high. They are the oldest proprietors of the hamburger in the country, having served the meal before it ever had a name, and they have long perfected their formula.
Today, Louis' Lunch is a treasured destination for tourists and Yale students seeking a savory meal. If you ever want to stop by, make sure not to do it in August – the Lasser family tradition is to take the entire month off for a vacation in the comfortable New Haven summer air.
The Closing of a New Haven Restaurant that was a First of Its Kind
In 1982, New Haven (and the rest of the state) had zero sushi restaurants. That year, Miya's opened up in town and became an instant success. However, unlike every other sushi restaurant in the country, Miya's took efforts at every step to ensure that they only used ingredients from sustainable farming industries. It would soon become clear that this sustainability pledge will be vital for sushi restaurants nationwide.
Around the world, overfishing threatens our oceans. Many people rely on fish as a source of protein and nutrients, lacking any alternatives. However, when fishing exceeds the capacity of the area, local populations have trouble replenishing their numbers. In time, this can lead to hunger crises for many coastal communities. To help solve this problem, Miya's started the trend of sushi and seafood restaurants avoiding wild-caught fish and exclusively sourcing ingredients from sustainable fish farming operations.
Today, the United States experiences significantly fewer problems with overfishing, despite overall seafood consumption rising. Thanks to Miya's, we have some room to breathe with our ocean ecology projects. However, after almost forty years of continuous operation, Miya's is set to close, with its owners and head chef citing exhaustion after many decades of work. However, keep an eye on the place – they have not said much yet, but they hint at a revival shortly after the closure.
Steps to Take Before Fire Restoration Specialists Arrive at Your New Haven Home
Generally speaking, the best way for you to help your New Haven home fire restoration project is to call in professional help as soon as possible after a disaster. Getting technicians on the site before damages set in can have monumental effects on restorations' speed and cost. However, there are a few other things that you may do to help us out before we arrive.
Place towels on the floors - One of the ways that damage can spread to other parts of the house is underfoot. By placing clean towels and sheets around the damaged area, you can create walkways that stop ash from getting tracked around the house.
Wash your plants - If you have any live houseplants, give them a quick wash. Even light fire residue can harm these living, breathing organisms. The sooner that ash and smoke can be washed off of them, the healthier they will be later on.
Change your HVAC filters – Chances are, much of the smoke and ash got sucked into your HVAC system. While SERVPRO technicians are trained and certified to clean these systems out, you should still do all you can to avoid spreading residues around the house. A quick filter swap could stop ash from spreading to new parts of your home.
Stay safe – Fires may affect the structural components of your home. If you notice burned supports, falling ceiling material, loose wiring, or any other potential hazards, stay away from the area. Our experienced personnel can identify and contain these threats without any risk to you.
SERVPRO of New Haven stays ready on a 24/7 basis to provide high-quality fire restoration services to New Haven homeowners. Call us on our emergency line at (203) 234-1100.