How Can the Progression of Water Damage Threaten New Haven Homes?
9/4/2020 (Permalink)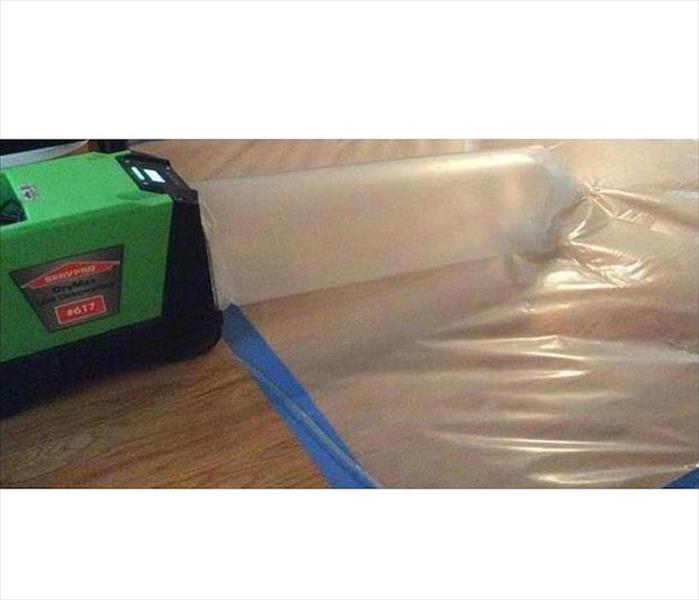 SERVPRO Works Hard to Salvage Water Damaged Hardwood Flooring in New Haven with advanced equipment and methods
Depending on the exposure and saturation of structural elements, water can cause irreparable damage that requires tear-out and reconstruction.
Many New Haven homeowners might not think of water damages as devastating threats to a property, especially when the initial impact seems superficial. Without adequately addressing water damage or its effect on the exposed materials and contents, the situation could become more widespread and severe than it might initially appear. Addressing these concerns often requires sophisticated technologies designed to track the migration of water damage throughout a house, including in the structural cavities and beneath flooring surface layers.
When you consider the multiple layers and levels of water damage restoration for New Haven homes, you might not appreciate the extent of work involved in removing all the moisture threats present when water begins to move, saturate through porous materials, and increase the humidity. There comes the point where restoration for soaked materials like wood flooring is not possible, and that comes with recognizing the stage of water damage present.
Surface Water – Surface water is when the damage in a house is still lying on the top of the flooring and accessible by squeegee wands, carpet wands, and other extraction/drying tools.
Trapped Water – When water begins to penetrate beyond the finished layers of wood plank flooring to saturate the individual planks, it is still possible to use floor drying mats, "tenting" with polypropylene sheets, and other equipment to preserve these flooring elements.
Bound Water – When water molecules chemically bond with the planks, distortion, and warping occur.
Can Components like Wood Flooring Get Repaired After Damages?
Often when warping and swelling around the seams has begun, protecting the planks is not possible. Controlled demolition can remove only the compromised portions of flooring to make reconstruction more efficient and cost-effective. If we can sand and refinish crowns or cupped edges of floor planks, we can salvage these boards. We always strive to restore and not replace.
Water damages can be threatening to a property if not addressed quickly. Our SERVPRO of New Haven can show We're Faster To Any Size Disaster when you call (203) 234-1100.