What is the Best Way to Get Rainwater off My Click and Lock Flooring in New Haven?
8/9/2020 (Permalink)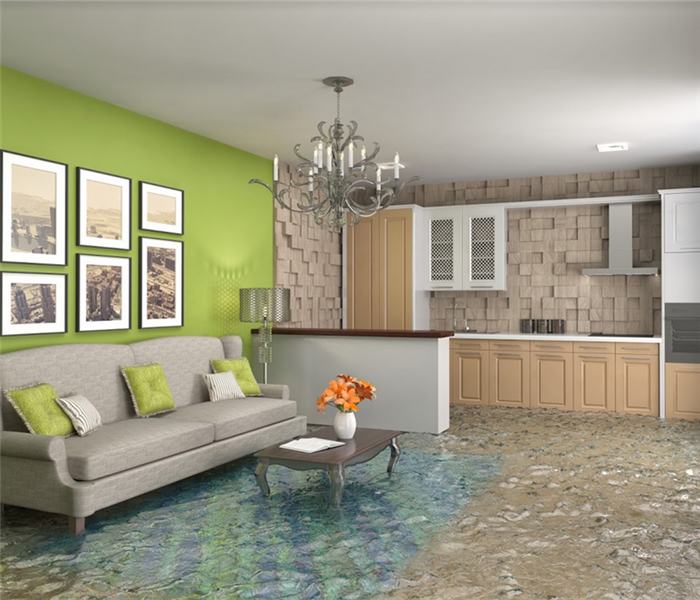 Once water gets into your home it can hide until it is extracted or dried. Contact SERVPRO for stormwater extraction services in your home.
No matter how the water from heavy rains entered your home, you want it gone quickly. If your click and lock flooring did not have a vapor barrier installed when it laid, it might not buckle if water seeps into the subfloor, mainly if it got installed over a concrete substrate. When this happens, you need fast removal of the moisture through both extraction and drying. There are three common outcomes after water damage to this type of flooring:

Successful restoration through quick removal and drying
Partial removal of boards to dry substrate and re-installation
Replacement of boards due to deterioration of the installed floorboards
After Roof Damage, What Do I Do About Stormwater Extraction?
Bringing in professional restoration services to your New Haven home for stormwater extraction is a smart move. SERVPRO technicians not only work on the loss in your home but also do any needed temporary repairs such as tarping roofing or boarding up broken windows to ensure no further water enters the property until final repairs get made. In cases where fiberglass insulation has water damage, the techs have collection bags for taking the insulation out for drying outside of the loss area for reuse after the mitigation efforts complete.

It is not uncommon for the water to have receded, however, it continues to weaken building materials until it gets removed and the structure dried. Proactive treatments using professional cleaning agents inhibit issues with mold and odors by eradicating odorous bacteria and conditions favorable for mold growth.

SERVPRO of New Haven at (203) 234-1100 when you need fast, efficient stormwater extraction. The technicians bring their advanced equipment and years of experience to ensure the best outcome possible for your property and content.

Click here for more information about New Haven.