How Thorough Is Fire Restoration Cleaning in My New Haven Home?
7/31/2020 (Permalink)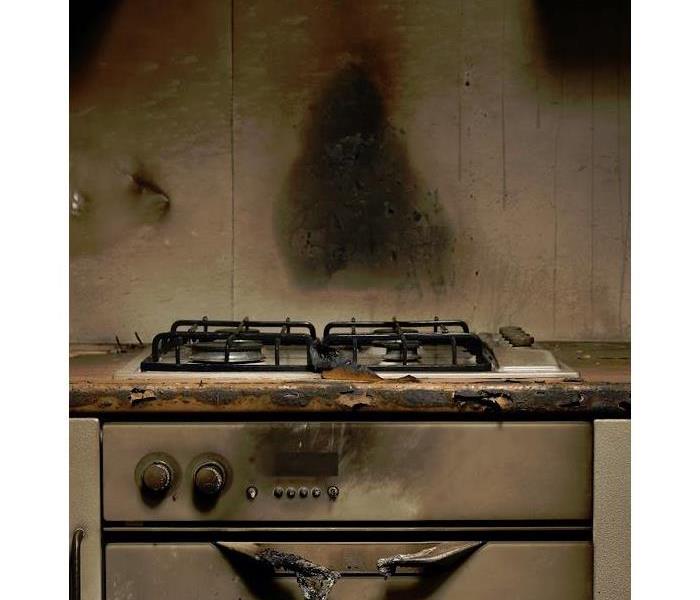 Fires can leave smoke residues and odors that can be hard to get out without professional help. Call SERVPRO.
Cleaning after a structure fire is a balance of specific sciences, and with careful consideration and planning, can be efficient and thorough for our customers.
Structure fires can have a devastating effect on New Haven homes or businesses. While many mitigation tasks must begin quickly to ensure that we can do the most to protect your home and its contents, cleaning up after these disasters can be a lengthy and intricate task. Fire restoration cleaning involves several scientific elements working together to reach an efficient and satisfactory result. In many cases, this blend of fundamental cleaning elements gets used to address widespread smoke residues of varying origins.
We have talented cleaning technicians who can begin their responsibilities and fire damage restoration for New Haven homes as soon as emergency services and mitigation efforts are completed. Regarding how we address the removal of soils and residues from affected surfaces and contents in your home, we can rely on four specific elements working together to achieve complete restoration and recovery to original conditions. Our professionals often refer to these factors collectively as TACT, though each branch is vital in the recovery of materials and content within your fire damaged property. These include:

Temperature
Agitation
Chemical Action
Time
How Does Temperature Impact Cleaning Practices?

Because many New Haven homeowners do not actively clean up after disasters like fire losses, you might not realize that many of the products that we use work best at different temperatures. Heat, in general, allows molecules to move faster, intensifying the reaction time of cleaning solutions and the soils they are interacting with on specific surfaces. We must carefully determine the best temperature in the damaged area to ensure that the cleaning solution chosen for present residues and soot is as effective as it should be. Warmer temperatures can also have other advantages regarding residue removal and eliminating soils on specific porous surfaces. Warming reduces surface tension and allows a higher penetration of these materials to dissolve soils more effectively.
What Does Agitation Mean?

Agitation is one of the fundamental elements of clearing thick residues before the final product is applied for emulsification or other chemical reactions. Agitative cleaning practices seek to reduce the thickness and severity of residue coatings by dislodging soils and removing them. Depending on the situation and the surface, agitative cleaning practices can vary. Choosing the right approach often involves identifying the type of smoke residue present and the best method to avoid marring or staining the underlying material. Some of the practices that we utilize for pre-chemical treatment agitation include:
Pressurized water or air
Steel wool scrubbing
Brushing
Vacuuming
Do Chemical Reactions Play an Active Role in Fire Restoration Cleaning?

You might not realize there are multiple types of cleaning products that can address varying smoke residues and soils present after a structure fire. Between wall systems and contents in the house, widespread cleaning is a necessary effort that begins during mitigation and continues through the restoration phases to come. Identifying what products are required for what specific residue your home is facing involves data collected during the job scoping phase and continued monitoring of the property during mitigation. We follow the premise that like dissolves like, meaning that water-based solvents can best address water-based soiling. Likewise, adding oxygen through bleaching removes oxygen from the composition of the soil. There are multiple products in our inventory that we can use to recover services, contents, and other items damaged by a fire. These include:

Water-Based Detergents
Alkaline Solutions
How Much Time Is Necessary for Effective Cleaning?

Many chemical processes do not happen instantaneously, meaning that patience is a virtue for fully restoring your home to its original condition. Understanding the specific times for chemical reactions to occur and become most effective can ensure that we take the necessary steps at the appropriate times to efficiently recover the damage. The time needed to dissolve soils through chemical actions is known as the dwell time. Various factors can help determine the time necessary to eliminate soils on the surface of specific materials. These include the type of content, the chosen method of agitation, the temperature used when applying a cleaning solution, and the type of smoke residue or soiling our professionals face.

Cleaning and restoring your home after a fire loss incident can feel overwhelming, especially when you are uncertain of whom to call and what to expect. Our SERVPRO of New Haven team understands cleaning sciences to make fire losses "Like it never even happened." You can count on our fast response and experienced professionals available 24/7 at (203) 234-1100.