We Get You Back To Business In New Haven After A Flood
2/17/2020 (Permalink)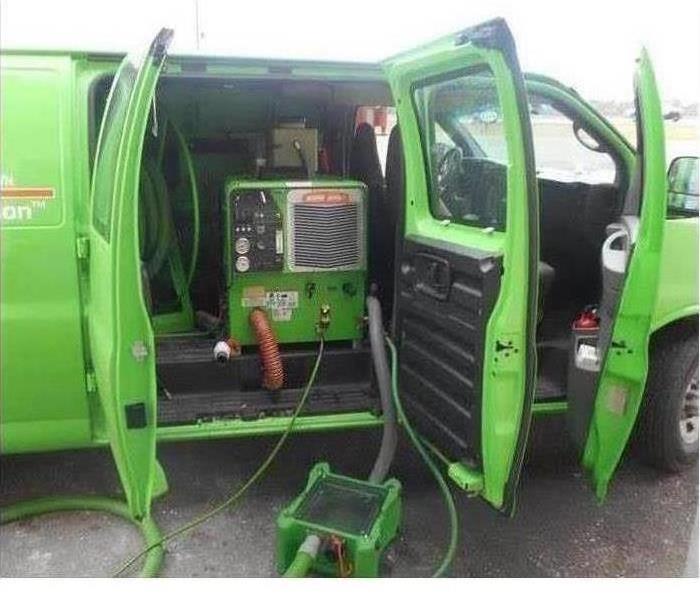 Our trucks mounted with water extraction units used for suctioning up water from the damaged areas of the structure after a flood.
Removing Commercial Flood Damage from a New Haven Barbershop
Connecticut business owners may be surprised to find that the average commercial flood insurance claim can be more than $97,000. While that may be pocket change for large businesses, small businesses often have difficulty recovering from these types of disasters due to lost revenue and having to replace inventory and materials. Worse still, without proper mitigation, flooding can leave behind mold and other contaminants that can affect the quality and safety of your business.
If you are a small business owner looking for commercial flood damage mitigation in New Haven, your local SERVPRO has you covered. This IICRC-certified team of technicians is highly experienced in flood damage mitigation and restoration and is always ready to help business owners open their doors once more. SERVPRO employs state-of-the-art technologies such as infrared cameras, submersible pumps, and industrial-grade deodorizers to return your business to a sanitary, preloss condition.
Supplemental Flood Insurance Protection Tips
If your business is in a high-risk flood area along the coast or the Quinnipiac River, you may be familiar with NFIP's flood insurance policies. However, you may need supplemental insurance to cover specific items such as:
Business property or equipment used outside of the building, such as septic systems and cisterns.
Business vehicles, which are not covered under NFIP commercial flood policies. Your vehicle insurance can cover them as an endorsement.
Any damages to your building, inventory, or business property over $500,000. These require excess coverage.
Generally speaking, you absorb the financial damages from shutting down your business after a flood. However, some private flood insurance policies do cover financial damages from shuttering your business.
How SERVPRO Restores Your Business
When flooding occurs, it can be challenging for any business to bounce back, particularly small local establishments like barbershops. However, SERVPRO professionals get straight to work on extracting floodwaters and removing contaminated debris, such as rugs and other porous items, with the full knowledge of both you and your insurance adjuster.
After removing the bulk of the water with a submersible or truck-mounted pump, restoration techs can use portable extractors to remove water from salvageable furnishings. These extractors feature three separate systems for heating, vacuuming, and pumping that work in tandem to thoroughly remove moisture and prepare your space for disinfection and drying. Drywall that is absorbed moisture can be prepared with weep holes and flood cuts to maximize ventilation in wall cavities and minimize the risk of mold proliferation.
SERVPRO of New Haven can provide you with service that makes your business look, "Like it never even happened." No matter when disaster strikes in your business, you can call (203) 234-1100.
See more about New Haven.