A Few Commercial Water Damage Mistakes in New Haven That You Should Avoid
12/29/2019 (Permalink)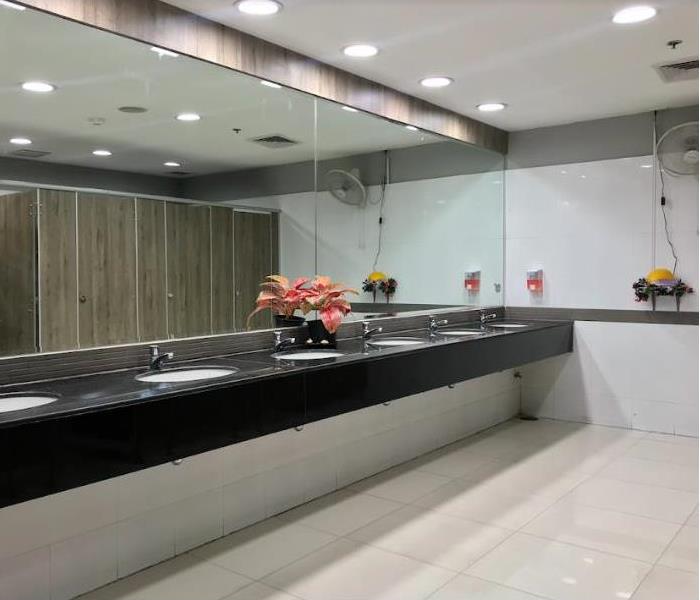 Office bathroom water damage needs to be mitigated right away to prevent facility closure.  Contact our experienced team 24/7 for services.
Commercial Water Damage New Haven – Swelling Subfloor Damages Tile
One of the reasons many owners install ceramic tile in commercial offices is that the tile can withstand lots of foot traffic and lasts much longer than carpeting. Tile also maintains the original finish and can be easily cleaned. Few people realize that tile can be damaged when a water leak floods a tile floor.
SERVPRO has been responding to commercial water damage incidents in the New Haven area for many years. Our team's experience and certifications allow us to provide emergency services to New Haven for water, fire, and storm damage whenever it occurs on a 24/7 basis.
Why Tile Floors May Crack
Whenever a water leak occurs, the water can spread rapidly over a tile floor. With nothing to absorb the water, such as a carpet, water may cover the entire floor in minutes. If the leak is identified quickly and repaired, many customers assume all that is needed is to mop up the surface water, allow it to dry for a few hours, and normal business activities can be resumed.
Tile and the grout are always sealed at installation. However, over time, cracks may appear in the grout, or there may have been areas that remained porous. Water sitting on a tile floor can seep in between the cracks or around edges to the subfloor below. Once the subfloor becomes wet, the wood may swell, placing pressure on the tile, causing further lifting or even cracking of tiles in the area.
SERVPRO can help remove standing water from your commercial building as well as test subfloors to ensure the floor is dry and not cause damage sometime later. If the subfloor can be reached from the floor below, drying from the bottom may be considered. Small holes can be drilled into the grout to assess the moisture levels. We also use non-penetrating meters to assess moisture levels.
Let SERVPRO help to prevent tile breakage or loosening. We can clean up after a water leak and monitor the subfloor to avoid potential future problems.
Call SERVPRO of New Haven at (203) 234-1100 for 24/7 service. We proudly serve Mount Carmel, Spring Glen, and surrounding areas. We're Faster To Any Size Disaster.
Click here to learn more about New Haven.