SERVPRO Provides Real-World Solutions to Mold Remediation in Hamden Commercial and Industrial Sites
10/26/2019 (Permalink)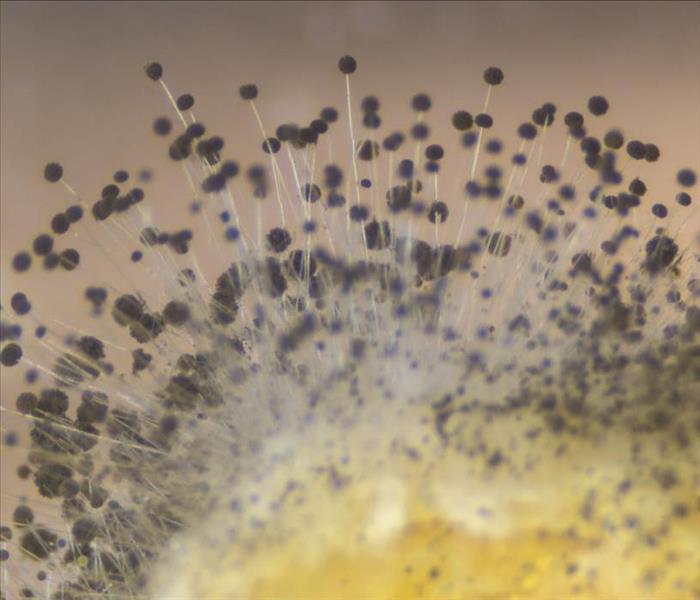 Don't Let Mold Spores Ruin the Indoor Air Quality of Your Hamden Office--Call SERVPRO for Remediation
Restoring Normal Indoor Air Quality after a Case of Commercial Mold in Your Hamden Office
Mold has a musty smell, which can make your Hamden office uncomfortable. Apart from the smell, mold also releases spores and other debris into the air, which can have adverse health effects on the occupants. Even if mold colonies are not in view, such as when they develop in wall cavities or above the ceiling, their effects on the IAQ is the same as when developing in the open.

Restoring indoor air quality after discovering commercial mold in your Hamden office requires an understanding of how the problem develops. When materials in a building are wet or damp over extended periods, bacteria and mold colonize these materials. The growth process releases microscopic airborne particles, while the Microbial Volatile Organic Compounds produced, release the musty odor associated with mold. Mold can also develop in the HVAC system, which further compromises the air quality in your office. Poor air quality is often the root cause of a "sick office."

Removing all mold colonies and debris from the structure is the first step towards improving air quality. Our SERVPRO technicians use different approaches, including:

HEPA Vacuuming
Damp Wiping
Wire brushing or other forms of agitation
Removal of porous materials

Vacuuming helps remove loose debris and spores from surfaces. The use of HEPA filtered vacuums helps because they capture 99.97% of particles as small as 0.3-micron, ensuring none of the spores and mold debris escapes into the air. Damp wiping helps remove debris adhering to the surfaces in the affected areas. It also helps kill spores and prevents further growth, especially when we use cleaning agents with antimicrobial and antibacterial properties. In case of massive growth on porous surfaces, removing the material is necessary because cleaning procedures cannot remove the root hyphae that penetrate below the surface.

When demolishing affected areas, it is possible to release mold debris, further compromising the indoor air quality in your office. Our SERVPRO technicians take various steps to prevent this, including creating isolation zones and running negative air pressure machines during demolition.

Quality indoor air quality is necessary for comfort and maximum productivity in the office. Call SERVPRO of New Haven at (203) 234-1100 to help. We're Faster To Any Size Disaster.