Don't Try and Tackle Flood Damage in Your New Haven Residence Alone
7/16/2019 (Permalink)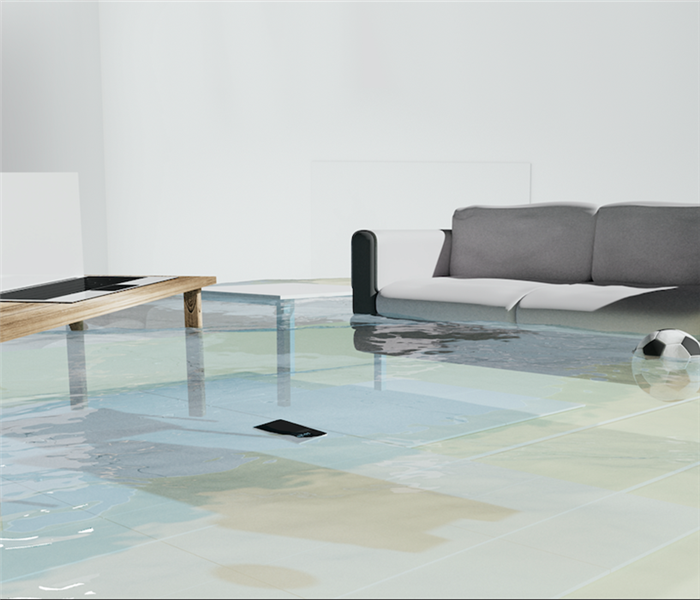 Flood damage to your New Haven home can be tiresome to deal with alone. Contact the professionals at SERVPRO today for remediation assistance.
Responding to Several Aspects of Flood Damage in Your New Haven Home
You may consider a storm as a single event, but it can damage your property in many ways. Lighting and falling debris such as tree branches can punch holes in the roof while the strong winds can blow up windows. All these problems create ways for water to reach the interior of your house and cause widespread damages. A fast response can help save your New Haven home when such an incident happens.
Protecting the property from further deterioration is a crucial step when responding to flood damage in your New Haven home. Various steps can help you achieve your intended goal of protecting the property from further damages. Sealing any openings can help prevent keep out weather elements, while quick water extraction helps prevent problems associated with unfettered permeation of water. Our SERVPRO technicians help by boarding up the house and installing roof tarps securing it. We also bring high capacity water extractors to remove any standing water quickly.
Storm waters affect building materials in many ways. The materials on the floor such as carpets, tiles, or floorboards bear the brunt because no matter where the water breaches the property, it is likely to end up on the floor. Contaminated water soaks into carpets ruining them completely through staining and contamination. Wood expands when it absorbs high amounts of water so floorboards can buckle at the joints or rot if not dried properly. Our SERVPRO technicians remove the existing carpet and pad for disposal. We also help install the new one when cleanup is over. We also use various moisture detection and drying equipment to remove moisture, including:
LGR Dehumidifiers
Centrifugal Air Movers
FLIR Thermal Cameras
Moisture meters
Flooding incidents leave properties dirty with a combination of debris from damaged items within the structure and materials swept in by ranging water or strong winds from outside the structure. A thorough clean up is, therefore, necessary to restore the property to its preloss state. Our SERVPRO technicians clean all affected contents, including furniture, draperies, and upholstery. We also clean floors, walls, and other parts of the structure to achieve sanitary levels.
Consulting a professional restorer can help you deal with any aspect of flood damage. Call SERVPRO of New Haven at (203) 234-1100 to assist. We're Faster To Any Size Disaster.
Click here to see more about New Haven.